Name: Stephanie J. Eder
Number of colleagues (excluding PI): 6 in the current project
Location: Vienna, Austria
Graduation Date: July 2020

Grants: 4 scholarships so far
Twitter followers: 52
Hello! Who are you and what are you working on?
I'm a trained psychologist – although I currently investigate C. elegans neuroscience. Together with colleagues from all over Europe, I recently published several papers on psychological dynamics during the COVID-19 pandemic and the resulting lockdowns. For example, we investigated which factors modulate fear of the virus and perceived health during the lockdowns, how romantic relationships are affected, and if subjective food insecurity due to the pandemic leads to more weight gain. We are also working on a follow-up project.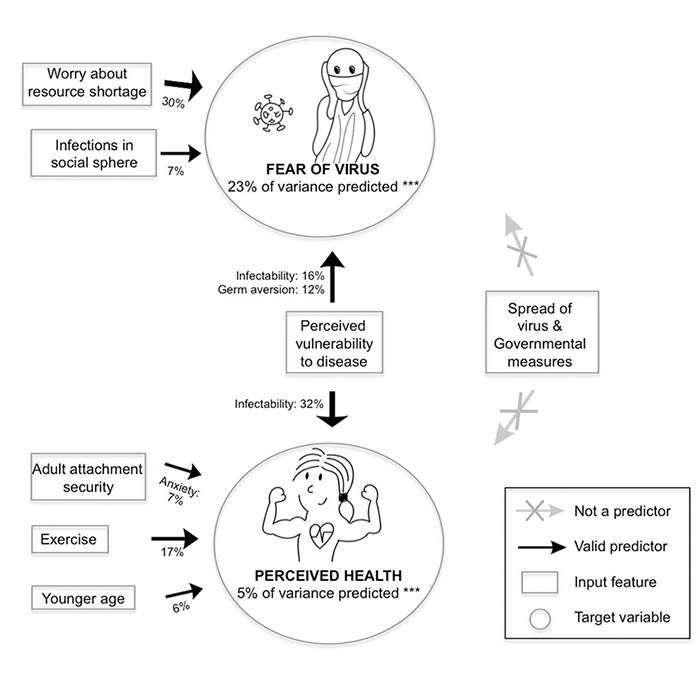 Summary of predictors of psychological reactions to the COVID-19 pandemic. 
Figure from: Eder et al., 2021 (PLOS ONE) https://doi.org/10.1371/journal.pone.0247997
What's your backstory and how did you come up with the idea?
In March 2020, the COVID-19 pandemic hit Europe. In the days leading up to the first lockdowns in Austria, some people greatly feared the virus and its consequences (e.g. shortages of supply), whereas some stayed very relaxed. I wondered: What modulates these different reactions? I recalled findings presented at conferences which seemed to relate to the current situation, and which might even best be studied in such a naturalistic setting.
In that suspenseful atmosphere, I texted friends and colleagues from different European countries. We launched the first questionnaire of the study a day after the first European lockdowns, and subsequently sent out follow-up questionnaires to participants on a weekly basis until the measures were loosened.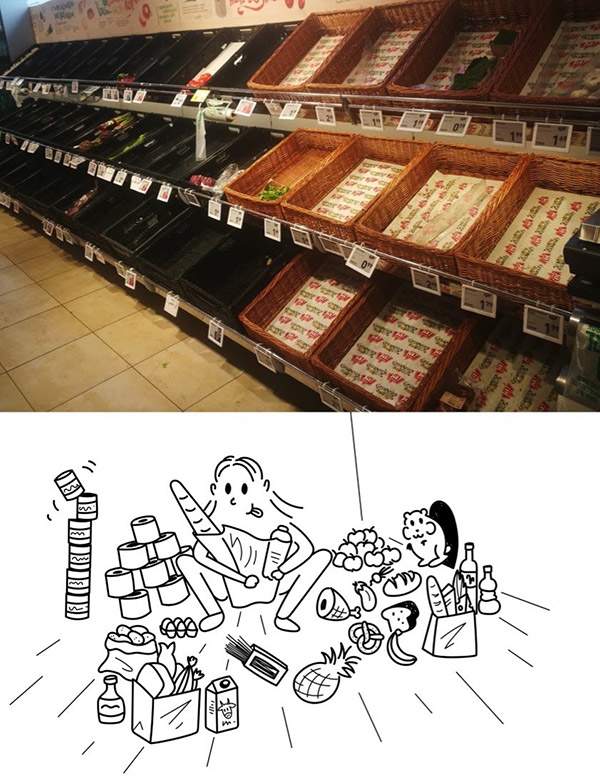 In the days leading up to the first European lockdowns, many people panic-purchased and hamstered food, 
whereas others didn't care much about the virus. Figure from: Eder et al., 2020 (Human Ethology) 
https://doi.org/10.22330/he/35/122-136
Please describe the process of learning, iterating, and creating the project
Fortunately, I already knew the people on the team well thanks to international conferences and university life, and all of them brought valuable skills on board. In a world generously celebrating individual genius, I don't think people realize just how much teamwork science is. Of course, working in such a diverse group you get a lot of different input to learn from. Before we knew it, we were formulating research questions from four very different psychological fields! Our papers now separately discuss romantic relationships, fear and health, food insecurity, and ethnocentrism.
Please describe the process of launching the project
We were all feeling a certain tension at the time and knew that the curfews were going to be implemented within a few days, a first in recent European history. Thus, texting my colleagues, the first meetings, creating the first questionnaire, getting in contact with an Ethical committee, and launching the study was all happening in a matter of four days.
Since launch, what has worked to make your project grow?
My original idea was to collect descriptive data over the lockdowns, test a few hypotheses from slightly different fields, and write a tiny paper about it. Over the first week of data collection, we realized it was about to get bigger than that, and we were collecting large amounts of data. We eventually decided to train machine learning models in order to predict our variables of interest from many other inputs, and split the originally planned tiny paper into four papers, each addressing a different aspect. You can find the projects on the Open Science Framework: https://osf.io/db4px/
How is everything going nowadays, and what are your plans for the future?
The 'corona-team' has an amazing group dynamic and we very much enjoy working together. Because of that, we are currently working on a follow-up study together, which looks at pandemic scenarios using game-theory inspired approaches.
Personally, I am about to finish my second MSc (molecular biology) at Zimmer Lab (Univ. of Vienna/IMP), and I am right now trying to decide on a PhD position – unfortunately, there is way too much exciting stuff to investigate out there!
Through your science, have you learned anything particularly helpful or advantageous?
Plan ahead! I like to improvise, but every time again I realize that I should have planned ahead even further. Also, I have become very interested in data analysis (Bayesian approaches, machine learning…) during my psychological MSc thesis (Scharnowski Lab, Univ. of Vienna). Data and stats skills are extremely important – and learning to program in Python is definitely worthwhile! And, well, these days I have learned lots of important stuff in the realm of worm neuroscience… after all, why spend our time not understanding billions of neurons if we can spend it not understanding 302 neurons?
What is your morning routine?
Although I was born a night owl, I'm trying to get up before 8:30 so I can still submit my SARS-CoV-2 PCR sample at the institute. After that, I have coffee with my colleagues, who always serve new gossip about sexy preprints!
And how does a typical day look for you?
Life is very different each day – but most days have data preprocessing of some kind in common.
What does your workstation look like?
No typical workstation either – I alternate between two big screens, a laptop, and a microscope.
What platform/tools do you use for your professional life?
We like to coordinate using Google Calendar, e-mails, and a WhatsApp group for more informal messages.
How do you stay up to date on News and resources?
I always listen to the morning news in the radio, and read the papers on weekends. My favorite source of newsworthy local news is a satirical late night show.
What have been the most influential podcasts, or other resources?
I am not a podcast person (should I think about changing that?). At least have recently discovered Twitter & ResearchGate to stay up to date. Privately, I stick to books. I have a bit of a soft spot for ancient drama, but also like and learn from living authors –  for example, I recently discovered the work of Chimamanda Adichie.
What tools do you use in your personal life? Cook? Self-Care?
Dancing! All sorts, especially lots of Rock'n'Roll. Of course, in Vienna, you don't get around the occasional ball night…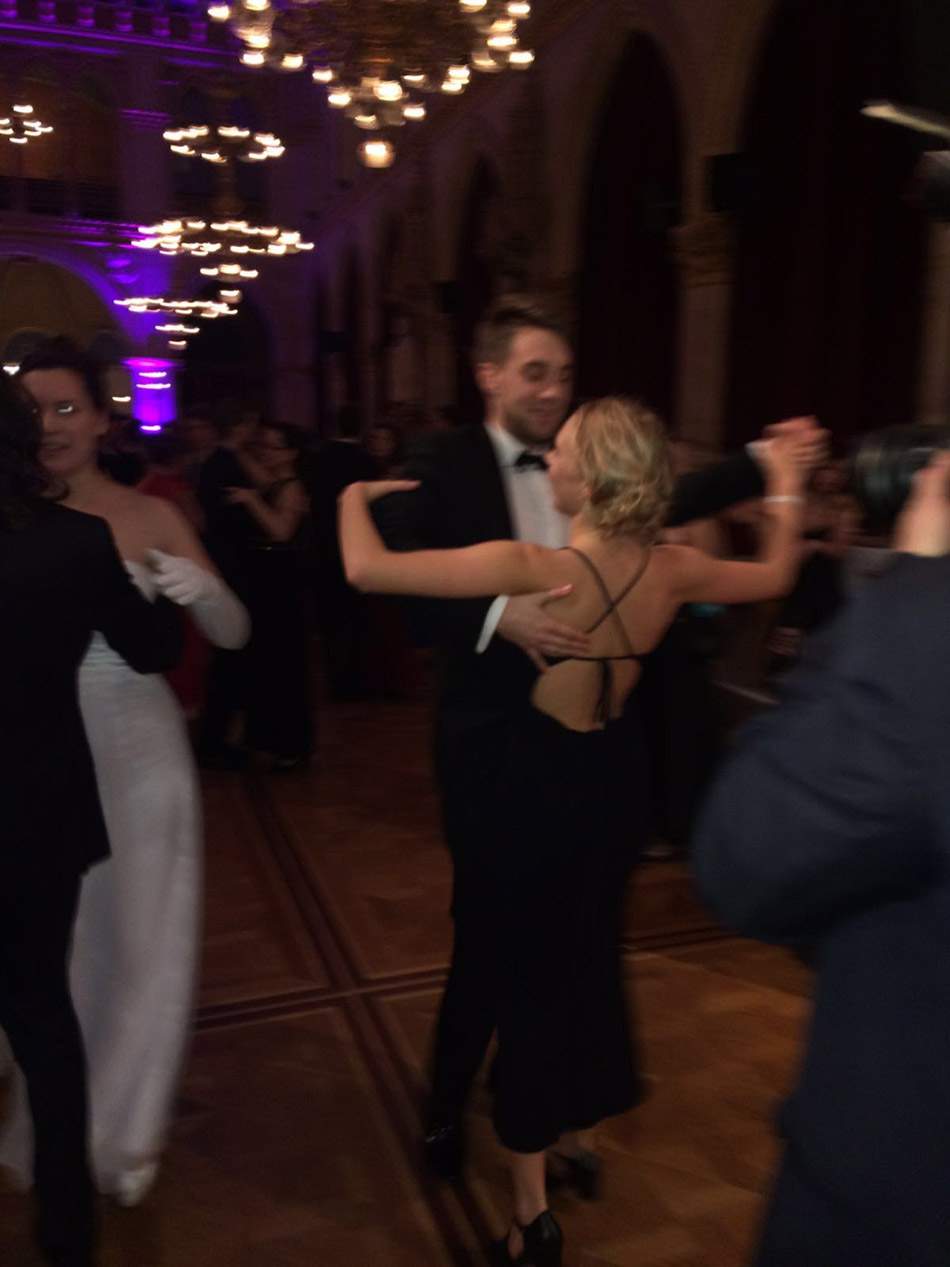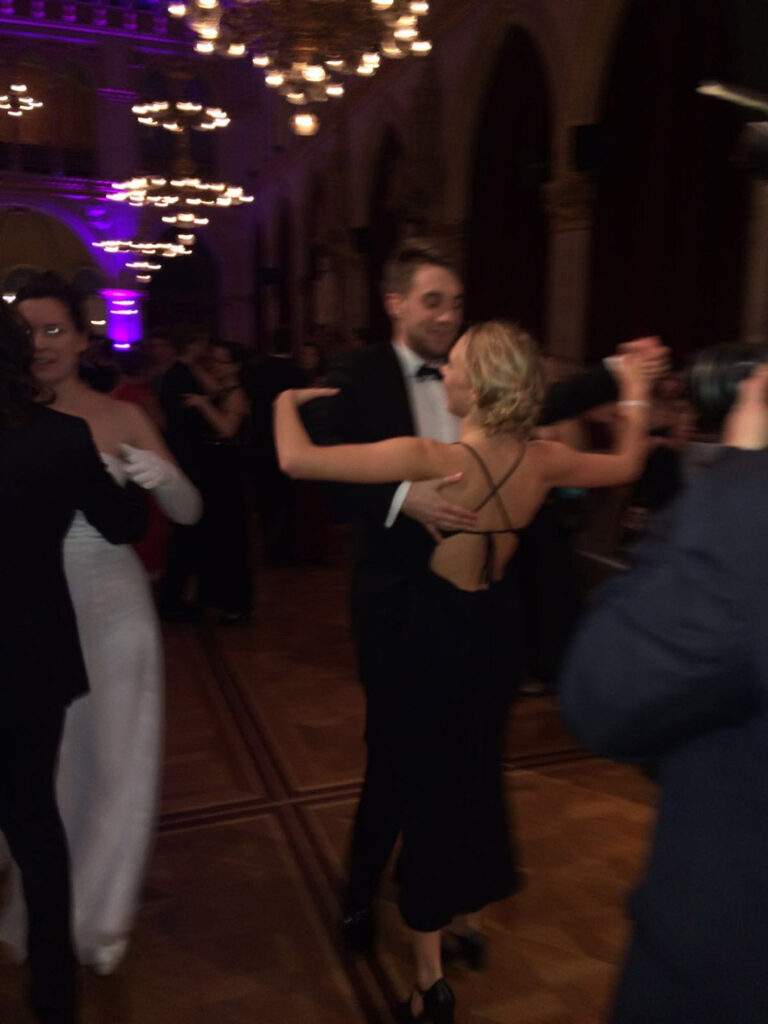 Dancing at the annual Vienna SciBall - celebrating Science and Dance!
Advice for other scientists who want to get started or are just starting out?
Find what excites you most, then find the people who do that best and get in touch with them – don't sit around waiting for a fitting job. Learn to navigate academic environments and get the findings in your field served hot by going to conferences as soon as possible… and possibly by getting a Twitter account!
Thank you very much for your time, Stephanie. Where can we go to learn more?
Scientific publications and preprints can be found on ResearchGate: https://www.researchgate.net/profile/Stephanie-Eder/
On Twitter, I post summaries of our findings and share science-talk: https://twitter.com/PepiEder/